Business
The 50 Best Places to Work, According to Glassdoor
Bain & Company Inc. takes the crown for the third time.
By
The 50 Best Places to Work, According to Glassdoor
Bain & Company Inc. takes the crown for the third time.
By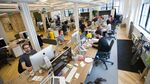 If you're looking for a new job, here's a good place to start.
Career website Glassdoor Inc. has released its annual report on the best places to work based on employees who elected to anonymously submit a company review on its website over a 12-month time frame. This year's winner, Bain & Company Inc., has been in the top five since the list's inception in 2009 and has been No. 1 three times. Employees cite a great salary, benefits, mentorship, and a culture that promotes employee engagement, according to Scott Dobroski, Glassdoor community expert. 
While a company has yet to take the top spot two years in a row, past winners don't tend to fall precipitously. Airbnb Inc., however, bucked the trend this year, falling to No. 35 after taking the top spot in its Glassdoor debut in 2015. 
"Airbnb has definitely dropped amongst the most ever," said Dobroski. Some of the factors that played into the fall have to do with the typical growing pains of a startup. "Airbnb continues to grow, and employees say it's now harder to find work-life balance, opportunities for advancement, and transparency from the top," Dobroski added. The company still receives high ratings from employees, so Dobroski isn't particularly worried. "These are common themes among emerging, private companies that are doing well globally." 
Airbnb spokeswoman Brittany Cornejo said that the firm "strives to create a work environment where all of our employees feel welcome, appreciated, and inspired by the work they're doing every day."
The competition this year was particularly fierce: All 50 companies on the list are within a 0.5 range on a scale of 0 to 5. In order to qualify for consideration, at least 75 employees of a company must submit reviews. The average score for a company this year was 3.3.
Clorox Co., Forrester Research Inc., Keller Williams Realty Inc., Microsoft Corp., and Lululemon Athletica Inc. all made the list for the first time this year. Newcomers to the list offer unique company cultures and meaningful work that seem to align with the overall mission of the company, said Dobroski. One SpaceX employee cited a sense of fulfillment and the ability to work on "exciting, fast paced projects" at Elon Musk's aerospace manufacturing company, for an example. 
Here's the full list of 50, with their rankings.