the 'onyx blade' motorcycle is a build that certainly cuts a dark and handsome figure. based upon the middleweight yamaha 'MT-07', it has been reworked so radically that only the engine offers a faint suggestion of the original model. conceived by winston yeh, owner of taipei-based rough crafts, it carries the same muscular stance; matte grey finish; and bodywork creases, that have become signature of the custom bike shop.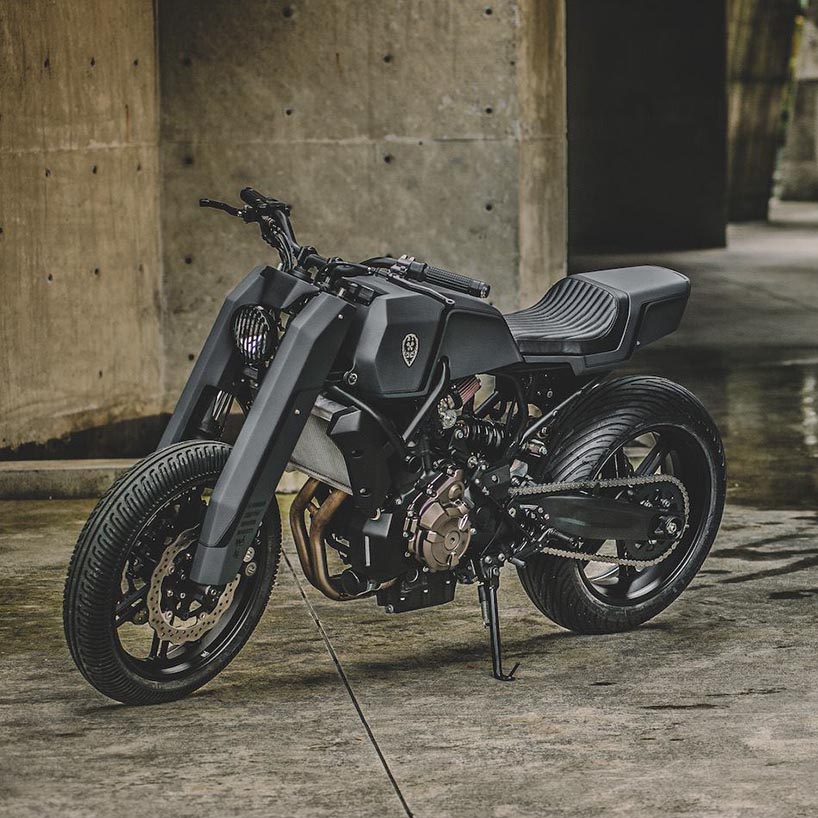 all images © JL photography

rough crafts's 'onyx blade' is a commissioned project, built for a customer wanting a fast and agile machine to tackle heavy traffic in the taiwanese capital. the sharp-edged form of the original bike is still there, albeit rendered in a completely different fashion with new aluminum bodywork. fabricated by long-time rough crafts collaborator onehandmade, it has been redressed with a sublime, stealthy finish by air runner custom paint.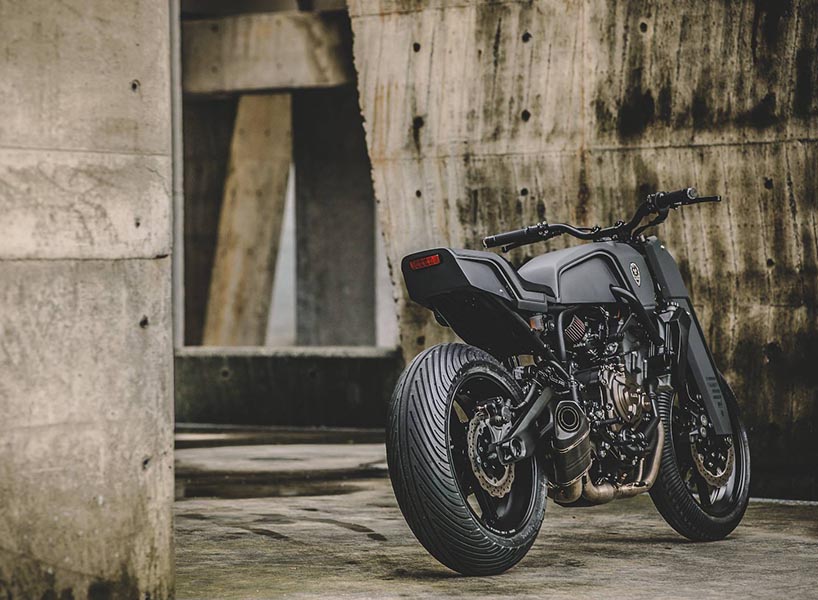 'I think the stock MT-07 has got quite a lot of 'design' going on, but it's actually the frame that's really interesting–especially the triangular tubing that the engine hangs off. that's what I wanted to show,' comments winston. he continues, 'the original idea was to do a glossy lamborghini grey–with no matte, but the owner insisted that rough crafts bikes have to be matte–so a layer of matte clear was applied on top of the base paint.'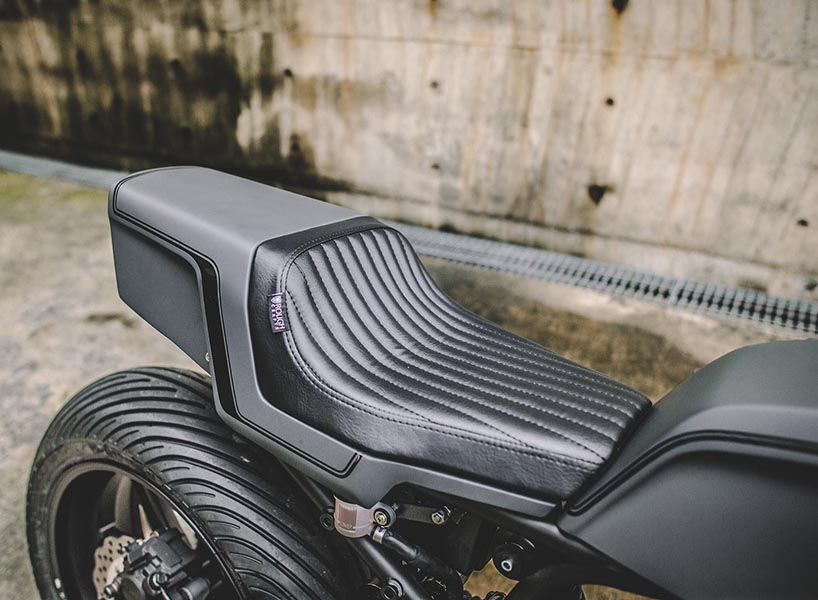 winston had race suspension specialist gears racing to modify the front end–they've shortened the forks; firmed them up; and added a preload adjustment. the front end is balanced out with striking fork covers, to counterbalance the hefty form of the 'MT-07's' upgraded tank and tail section. and given that it rains for over one third of the year in taipei, they'll offer protection as well.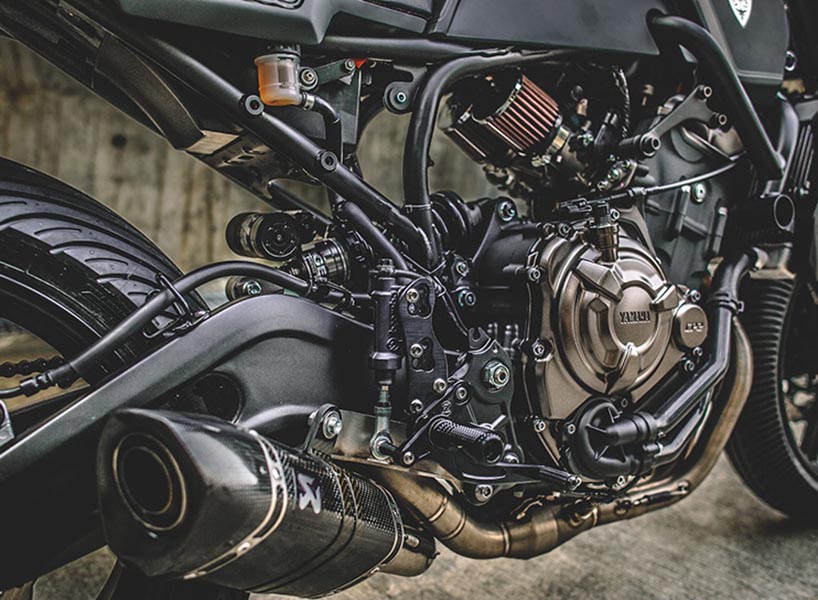 the striking tires are pirelli's diablo rain pattern, which are wrapped around custom 17-inch wheels built by wukawa industry. the 'MT-07's' original engine is delightful, so winston has restricted the upgrades to K&N filters and an akrapovič exhaust system.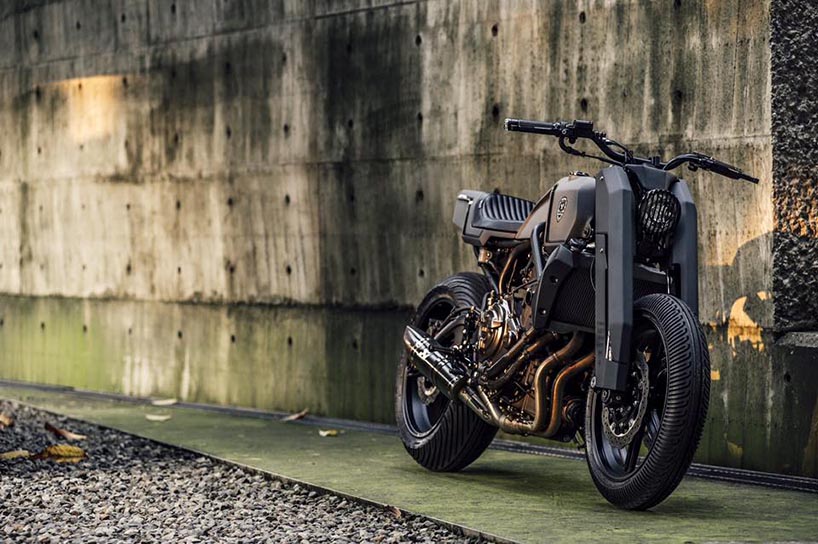 upon closer inspection, you'll spot a few rough crafts parts placed discreetly around this build–the headlight grille; ,the gas cap, the finned risers, and the 'fighter' bars. the brake controls are from ISR, and the grips + turn signals are from motogadget. befitting of the motorcycles futuristic form, winston has relocated the instrument cluster to the tank–it fits perfectly.