ROA motorcycles is a relative newcomer to the custom bike world, having created 18 impressive builds over the past three years. the spanish-garage's take on the classic BMW 'R80' is something the bavarian-manufacturer would adore with its simplicity. fusing two motorcycle styles, a café racer with a scrambler, its visual weight is perfectly balanced.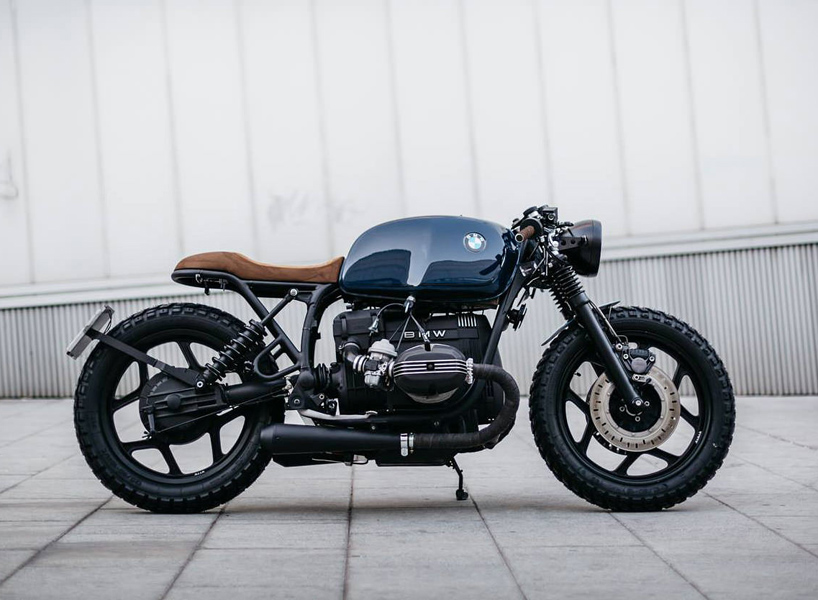 all images © ROA motorcycles

ROA motorcycles crafted the BMW 'R80' a hooped subframe, which finishes with a smooth flowing line that mirrors the groove on the brown faux-suede seat. the iconic tank was painted a high-gloss navy blue, blending with the matte black componentry and brown hand-grips. the upgraded clip-ons sit low, and its minimalist dashboard now features a T&T speedometer. at the back of the custom bike an LED brake light floats above the license plate holder.
the spanish garage was founded in 2014, however, its story can be traced back to the early 1950's. head designer jamie fenwick named ROA after his grandfather raphael onieva ariza — creator of the madrid-based manufacturer industrias motorizados onieva s.a.